Throughout man's history, wars have been fought over bread. After going to Aya Pastry out in West Town, I could see why. I recently had the opportunity to sit down with master pastry chef and business owner Aya Fukai and this felt special for a couple of reasons. For one, carbs are my thing. I just love bread in all its forms. Savory. Sweet. It doesn't matter – it's freakin' awesome and I love it. Secondly, I love seeing people in our community reap the rewards for their dedication to fine tuning their craft into something that is beyond exceptional. In addition to being a James Beard Foundation Award semifinalist, Aya has earned herself countless accolades both on the local and national level – and from the sounds of it, she's only just getting started. In our sit down, we talk about her transition from fine dining chef to pastry chef to business owner, how Chicago stacks up against Boston as a food town, and where she sees her business going in the coming months and its role in the community.
Steven: Between Eater, Thrillist, and now Modern Luxury – Aya Pastry is being featured everywhere and you're winning (and have won) a ton of awards – what's a day in the life of a rockstar pastry chef like?
Aya: It's funny because my title pastry chef has changed more to being a bakery owner. I come from a fine dining background, and here I am with a bakery. When I opened it, I didn't realize how different of a responsibility I would carry as an owner versus a pastry chef.
A lot of my day-to-day is more about the vision, the branding, the quality control, but also about the community and the employees of the bakery. My focus turned from being in the kitchen and making all these things to hiring responsible managers to fulfill those duties, figuring out a way for the bakery to be more sustainable, or to be able to give our workers better wages by getting more revenue. It can even be something like choosing collabs to support other businesses locally.
The day is not as glamorous of a life as you would imagine. A lot of it is done behind a desk. I have 26 employees right now so without them, the day-to-day is not possible.
You're going from being in a kitchen and producing just for the 50 covers that you have for a fine dining restaurant, suddenly to making 1400 croissants on a Saturday morning, plus 2000 baguettes that are going out. It's a totally different world.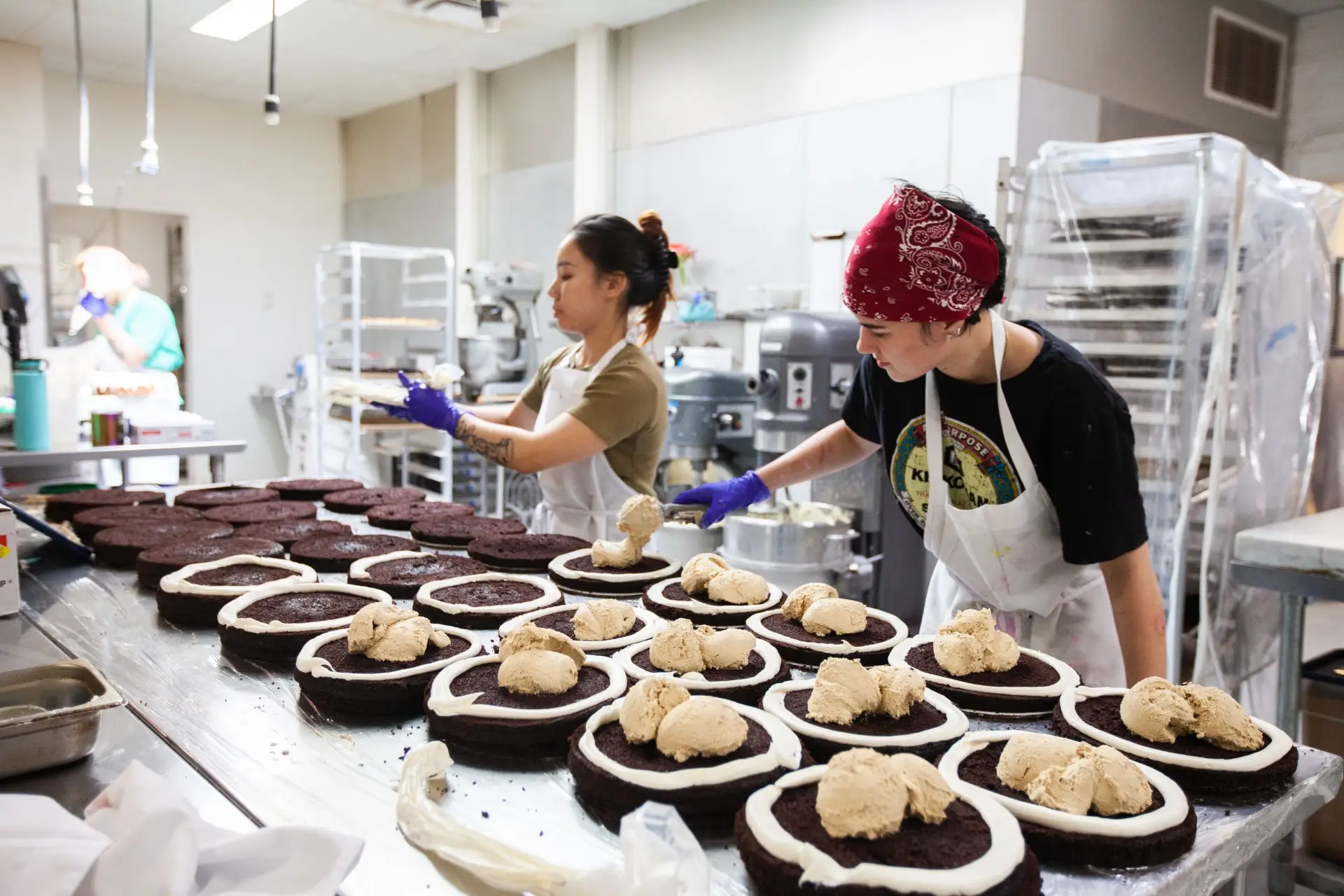 Steven: Was being a baker something you always wanted to be?
Aya: My love for pastry was almost a silly joke in the beginning. Where, you know, little kids are running around and say, "Oh, I'm going to be a pirate when I grow up," or "I'm going to be an astronaut." I was always saying, "I'm going to be a bakery owner when I grow up so I can eat all the cakes every day for the rest of my life!" Little did my parents know that that was going to happen.
I have a family that cooks a lot. I grew up with my mom baking and being in the kitchen and creating something that other people can enjoy and feel happiness through their bellies was just something that I always enjoyed doing. In the fine dining world, there's a place for it where you can have a special occasion and have a celebration with a special meal – but I realized that it's not approachable for most people. That's how it kind of defaulted to me being more of a baker than me as a fine dining chef. I realized how unrealistic it was for me to ask the people that I really love and care about to even come for a meal in a two Michelin star restaurant because you're asking them to pay $450, sit through 16 courses four hours later, and you get a little tiny dessert at the end.
To me that was what was so special about baking: to be able to create something that many people can enjoy. By staying in fine dining, I realized that you can only make so many things and so many people happy. Because for most people, it's not at a reasonable price point. It might be a mind-blowing experience for some, but I think a wholesale bakery and a bakery idea was born into existence for me because I want something to be accessible. Something that's reasonably priced and something that I don't have to feel bad to say to my friends, "Hey, come in and buy a croissant!" That's how I became a bakery owner.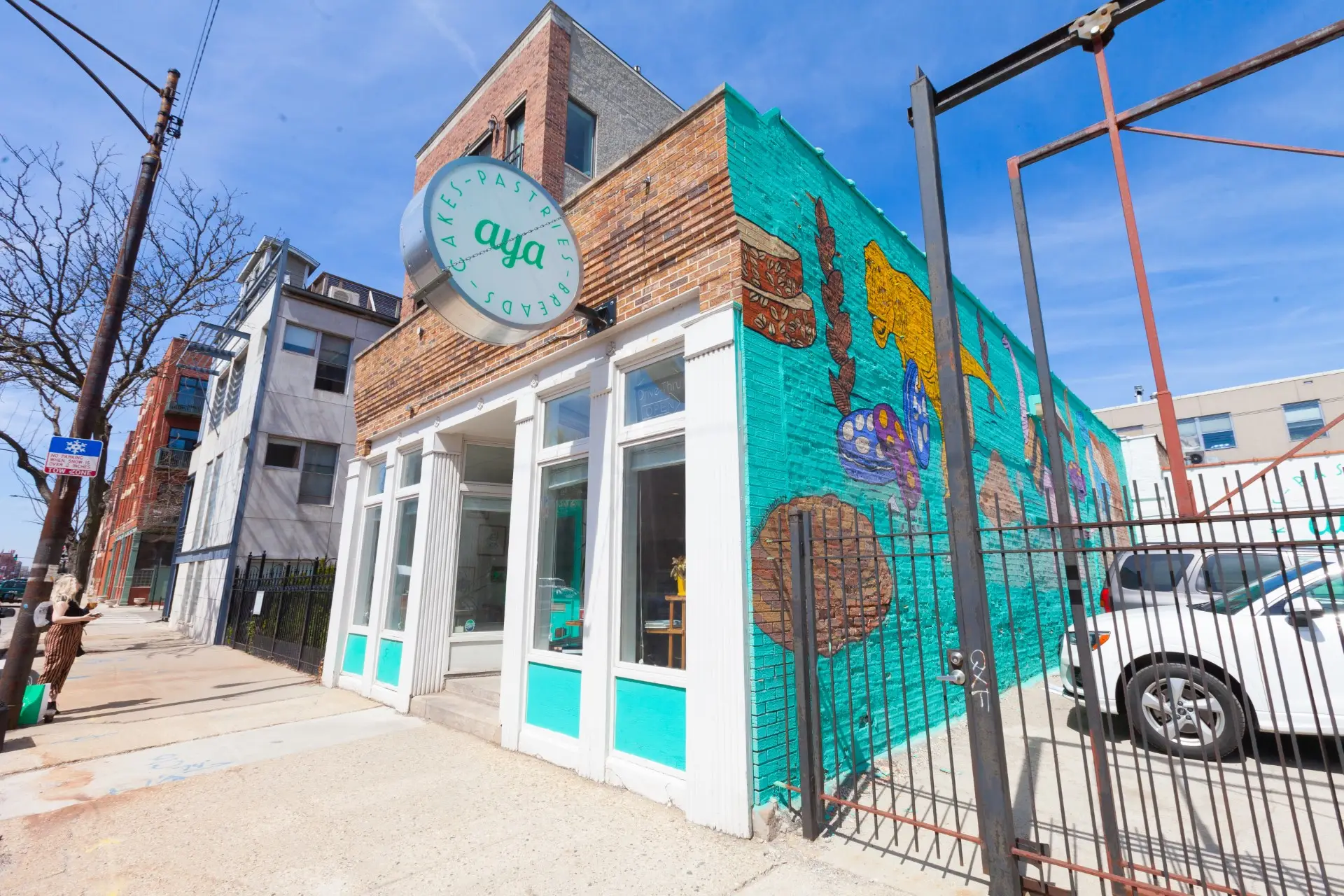 Steven: Something that I've found with nearly every artist and entrepreneur is that somewhere along the way they had to make a giant leap and decide to bet on themselves and go with their passion versus staying along a more traditional or conservative path – what can you tell me about your giant leap?
Aya: I started college as a pre-med student, and that's leap one. I realized early that it wasn't a career that I would be happy with. I wanted to be a pediatrician, but I went to volunteer at a children's hospital. My love for kids was what turned me off of it because I was on the recovery unit floor and seeing kids hooked up to respirators, I couldn't mentally or emotionally deal with it like doctors are able to. That's when I said I'm going to give up this realistic goal that I had for myself and go for the childhood dream that I was talking about.
I switched into the Hospitality Management School at Boston University. It's funny because I didn't have this like grand idea of, I'm going to be a business owner one day – it just naturally progressed to that as I felt the need to find things that are satisfying to me. I think it takes a lot of growth in your career to realize what makes you happy. Realizing I felt bad asking my parents to come in and dine, that's when I started thinking I need to do something about this, because what I'm creating, I can't even give it to my loved ones.
Do I take this huge leap to have my own company? There's lots of things that I didn't know back then when I was opening Aya Pastry and how hard it is. But now that I have my own business, I think it's very fulfilling and rewarding in a different way than being a pastry chef. Knowing that I can hire everyone on staff and creating a diverse company with many, many women in leadership positions, which is not something very common in a kitchen, is important to me. So, I didn't realize what the rewards were either. But back in the day, I think that big leap decision was because I felt stuck.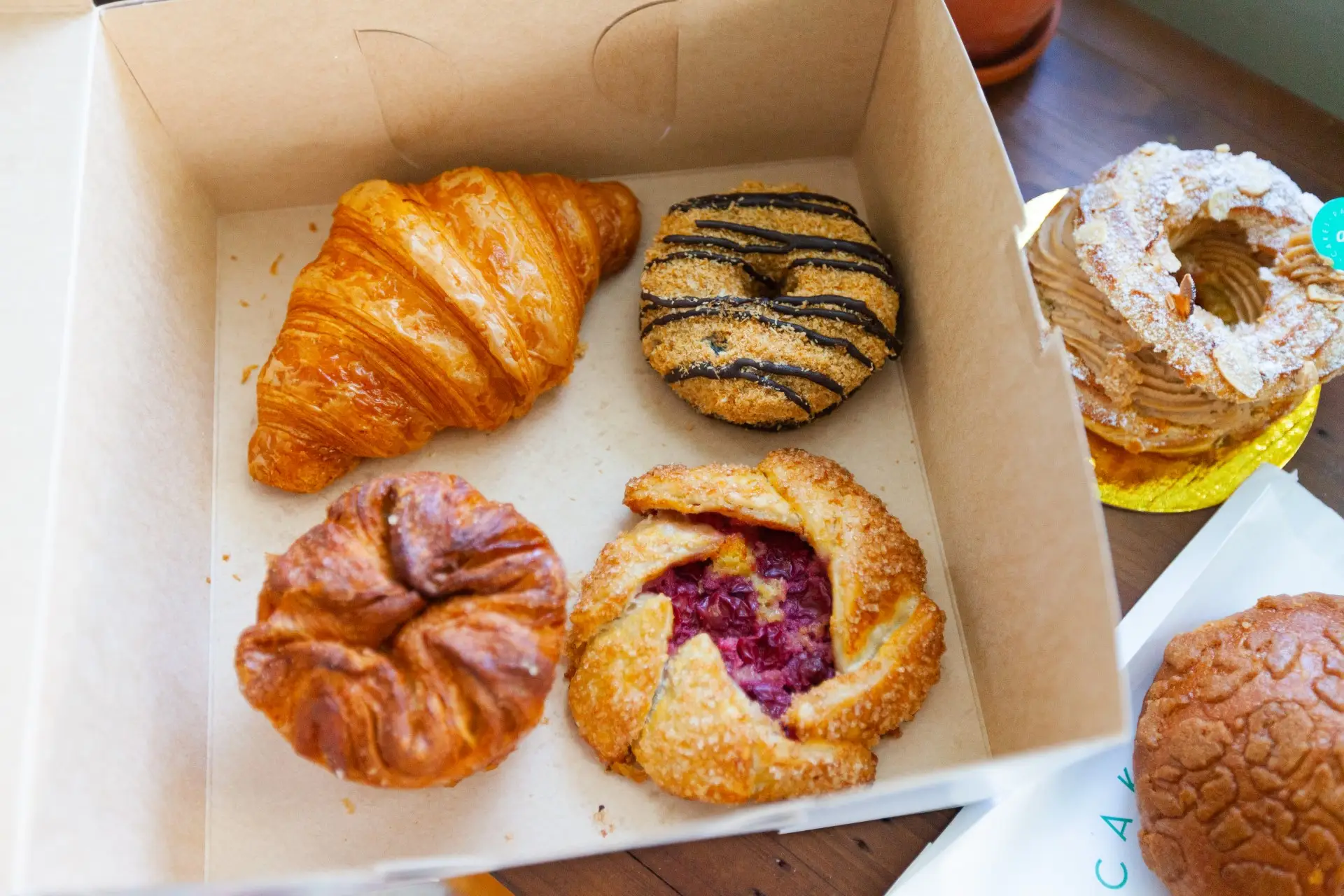 Steven: Your story is particularly inspiring because you've learned most – if not all – of your culinary skills through direct experience (and not through culinary school?) For someone new in their career looking to achieve what you have, do you have any advice on how you go about improving at your craft?
Aya: I think a lot of it is about being determined. Determination and hard work go a long way. The difference between going to culinary school and going to a regular school like I did, is just that foot in the door of that very first job. Keep on being persistent, get rejected. Get your first job where you are the person in the kitchen that doesn't even know what a sheet tray is. Be persistent. Be determined. And as you go, the knowledge-base in a job and the hands-on experience are more important, because that's what your day to day is going to look like instead of in a classroom setting. If you're willing to put in the hard work and get that foot in the door with some persistence, there's going to be that one place that's going to be willing to give you a shot. Be persistent and listen to whoever your manager is so you can take it all in and learn.
Steven: You've been in Chicago now for about 10 years – coming from Boston.  Has Chicago surprised you in any ways?
Aya: I love Chicago, Boston is where I'm from, but in Chicago people are out here because they enjoy food. There's something about Chicago and the audience in Chicago who just adores and loves food. Boston housing prices are very expensive. It's very hard to live in the city, especially with the wages of a chef. Chicago is still reasonable, where you can be on a chef salary and live comfortably and have a huge audience that's here to support you, who loves food and wants to try new things. A neighborhood like this in West Town is awesome because you get the same kinds of people as the city, but there are all these mom-and-pop shops all around. It's a neighborhood, and the customers that come into a retail storefront, I know all about their lives and their kids.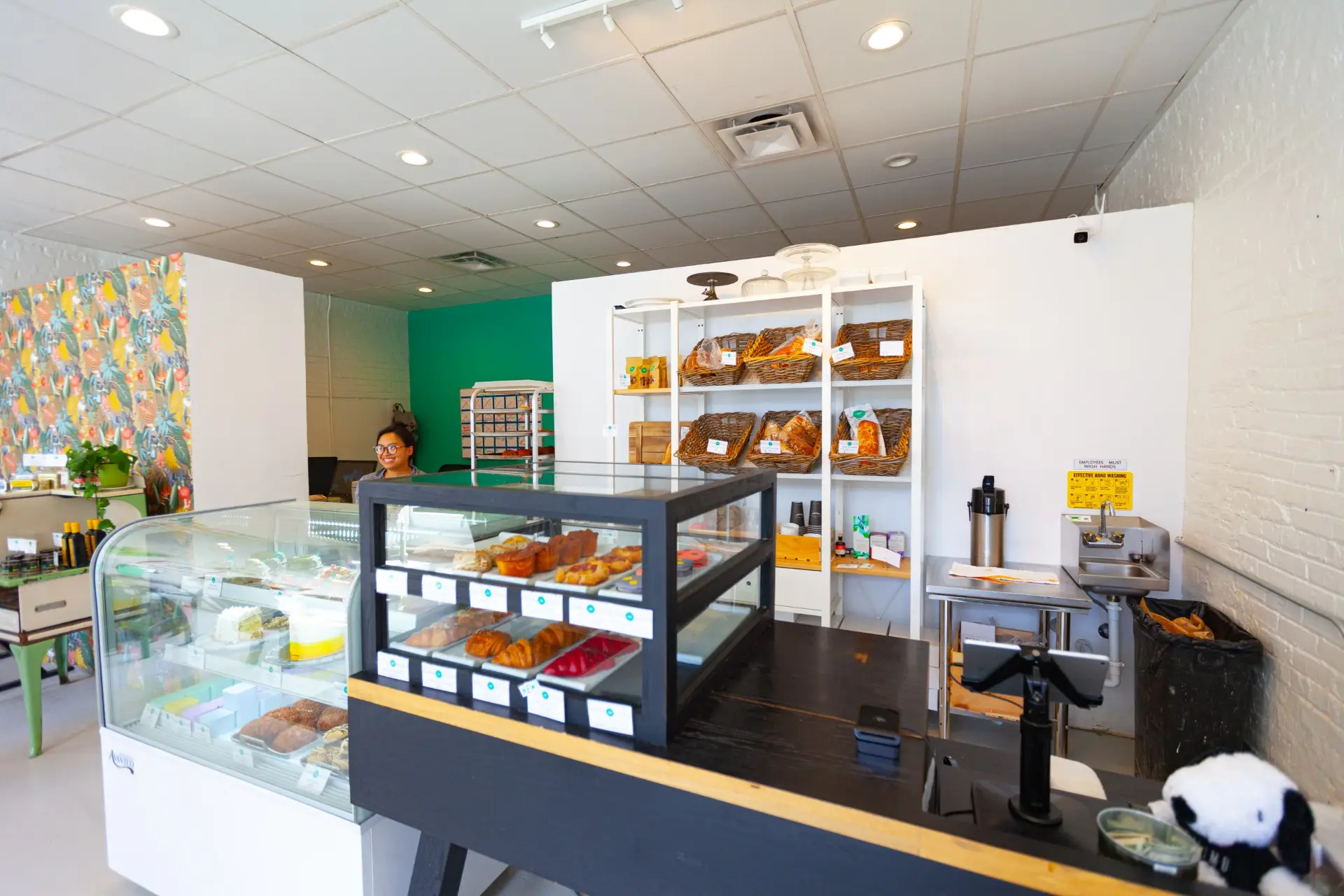 Steve: How would you say Chicago's food scene is different from Boston's?
Aya: The chefs push the envelope more here, they're willing to take more risks and are willing to make dining a challenge for themselves to introduce new cuisine. In Boston, because the land is so expensive and the lease is so expensive, when you're in a space you're almost strapped to do something safer because you know you need to pay this crazy lease right every month.
I think it's very, very hard to take a chance. I love that about Chicago and I think it's very different for any food and beverage owner here.
Steven: I'd imagine one of the fun things about having a bakery is being able to change things up and offer seasonal treats – is there a particular seasonal creation that you particularly look forward to every year?
Aya: In Chicago, there is no local produce available in the winter. As soon as I see that very first beautiful, red-on-the-inside strawberry – it gets me so excited. I have farmer friends that say, "Okay! It's ready," and suddenly there are all these ingredients that are beautiful to work with that are locally sourced! So as soon as that first strawberry comes in, I know it's all good from there
I would say the beginning of summer is probably when I get the most excited.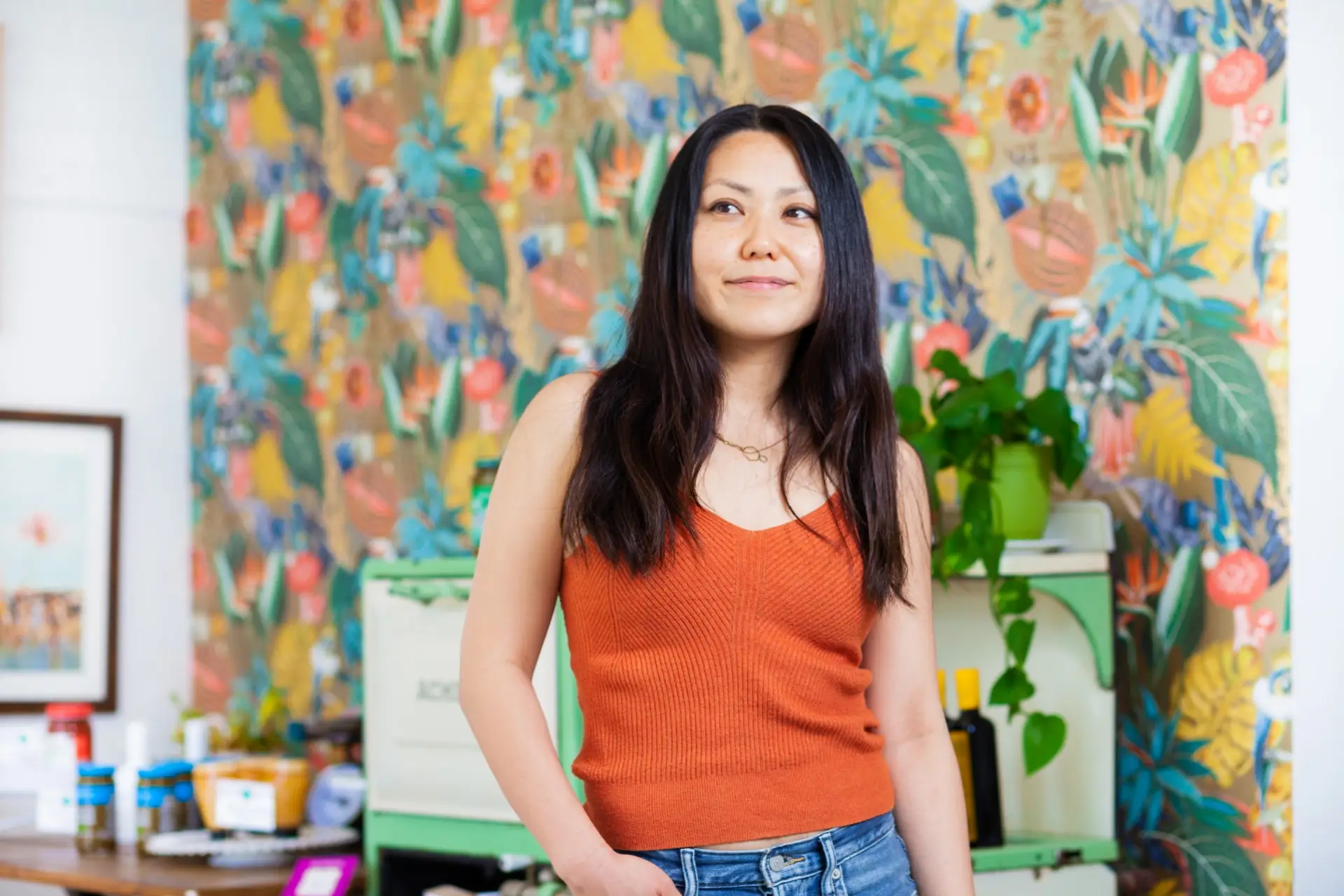 Steven: I've noticed you're not afraid to do collabs – specifically I've seen you guys do a lot of Kurimu – how did that relationship come to be?
Aya:  Ming, the owner of Kurimu, happens to be one of our customers. He came in one day and he introduced himself and he said, "I've been anxious to ask this, but would you be interested in a collab?" And I said, "Of course that would be amazing!" There are certain businesses that very much align with our culture and product quality.
I live in Pilsen right by a Kurimu store and I had been a customer of theirs too without him probably knowing. But as soon as he introduced himself, I was like, "Wow! That's awesome. I would love to do that." We do something with Sugoi Sweets too. Both as Asian small business owners I love being able to support each other. We're both winning by partnering up, and the customers are too for getting something new and exciting and fun. Whether it be a woman small business owner or Asian small business owner, that's usually my pairing in terms of collabs.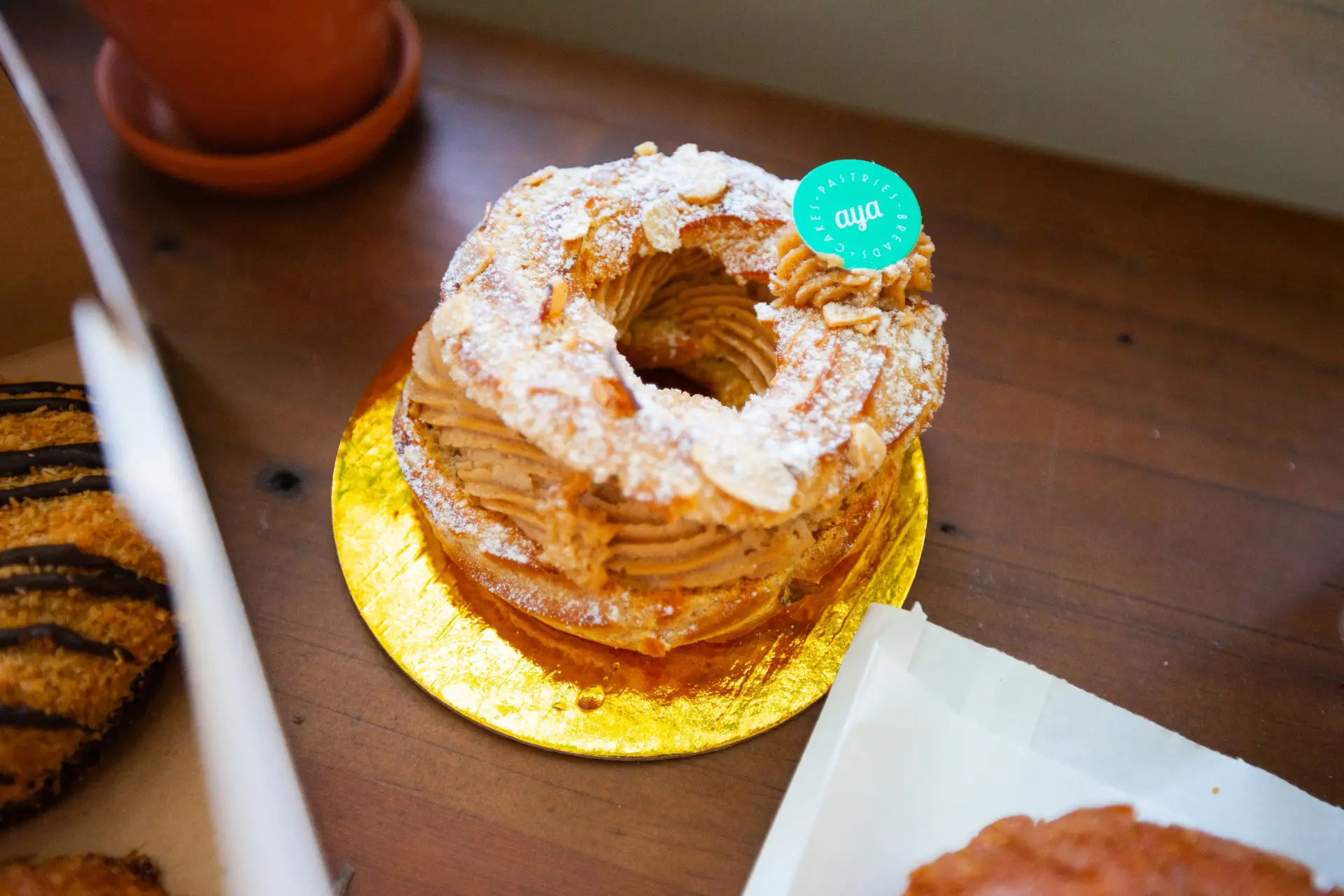 Steven: You originally opened the bakery as more of a B2B enterprise – wholesaling your amazing products all over the city – and have shifted now to also grow into the retail space.  From my understanding, that expansion was something you had planned on doing, but COVID basically forced you to do it a lot sooner. What can you tell me about that?
Aya: That was scary. It was like a button.  I would say like 85% of our revenue at that time to 90% was wholesale. We were only doing retail on the weekends just for fun. Then, all the restaurants got the ordinance to close overnight. So there goes all of our accounts, the only things that were open were like the three market accounts that we had. Yeah, so we had to do something.
Steven: What's next for 2023 and beyond for yourself and the bakery?
Aya: Now that we've come to a happy medium of okay, retail is working. Okay, wholesale is working. Everything is smoothing out so that we don't feel like we're in survival mode anymore. Now it's about, "How can we make things better?" We just started doing compost bins. Of course, it's more expensive, but we have the room to do that now.
We're trying to become more sustainable whether it be investments in plastic lids that we put on our sheet pan so that we don't have to go through as much plastic wrap or getting rid of one garbage pickup for compost bins. Sustainability is one of my biggest goals and there's a huge movement with employee rights after the pandemic. I think it's very eye opening to everyone, especially owners of businesses. I'm always continuously thinking about how to make this a better place for them to work whether it be for benefits or wages or how comfortable they feel in their work environment, that's another one of my goals to keep on improving that as well.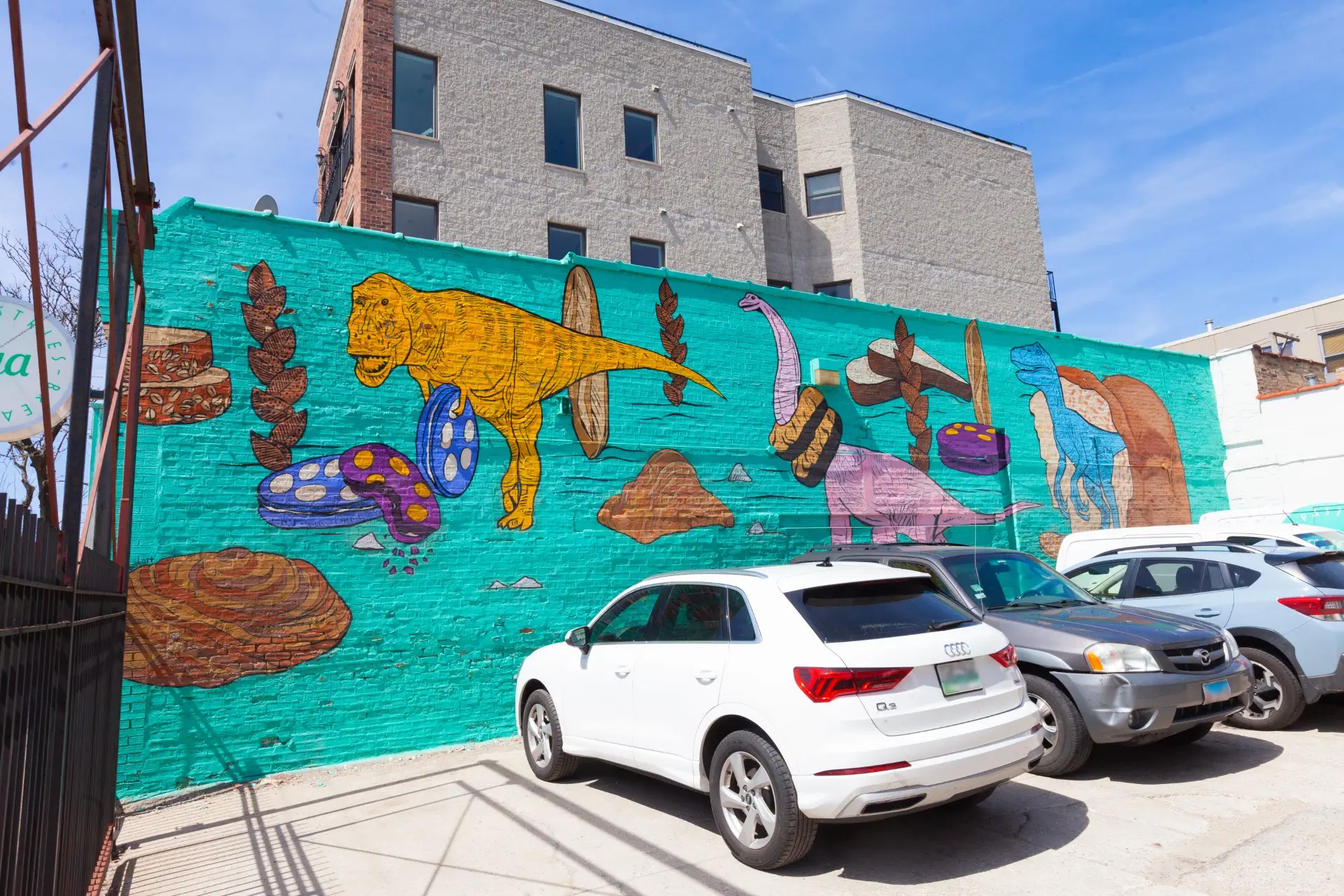 Aya Pastry is located at 1332 W Grand Ave, Chicago, IL 60642 and is open 9am – 4pm daily.