Located at the corner of Randolph and Peoria in the West Loop, JP Graziano represents the old Chicago way of doing things:  Show up, work hard, and provide a quality product. For nearly 100 years, that simple formula has paved the way for fourth-generation owner Jim Graziano to take this beloved neighborhood Italian grocer-turned-sandwich shop and transform it into a national phenomenon. Sitting down with the Godfather of the West Loop himself, I had the fortune to discuss his love of organic collaboration, where he takes his family for an authentic Italian dinner here in Chicago, and how he's able to stay humble in lieu of his business's growth.
Steven: I don't know if you guys have heard but there's this website Eat This Not That where JP Graziano just got named the Best Deli in Illinois, how does it feel when you hear something like that?
JG: *laughs* It's wild when you read something like that. There was one awhile ago [where we were named] one of the best sandwiches in the country. Even if it's the best sandwich on Randolph Street, man, I'm always pretty blown away any time you get that kind of recognition. I'll be very honest with you, when I started, being on stuff like this, getting that recognition is all I ever really thought about. I thought that was such an important thing to be put on the map and get that recognition. Then we start to be pretty consistent, and we continued to do it. I don't want to come off as ungrateful and be "No big deal", but really to me with the amount of evolution that's happened in our store, not just to the face of it but behind the counter and how many employees we have now. I'm still here almost every day. But not every single sandwich ordered, not every single sandwich sliced that's made and wrapped and handed out [is by me]. To grow this place, you got to step back and put people in charge of it. To me, that's a testament of the quality that we use, right? Because we did get those recognitions for quite a long time at this point. And to continue to do so, my team really runs so much of the day to day and it's very satisfying as somebody who's a leader here, to know that if I am making every sandwich or not, you're still getting that recognition of the best of the best. So that makes me feel good on a lot of different levels. The recognition for my team you make the right decisions and put the right people here that are trained well and that they're still delivering a top quality product.
We started making sandwiches in 2005 and beginning of 2006. So, we got a quite a number of years under our belt at this point. It's amazing, but no matter what write up you get; you're never hanging your hat on something forever. I am a big fan of saying, "Enjoy the ride home." When you get the recognition of something like that. You revel in it for the day on the ride home and enjoy that because you know you really broke your ass to get that kind of recognition. But then every other day, man, you wake up and you haven't sold a sandwich and there's still a million people that don't know about it, and you gotta go earn it.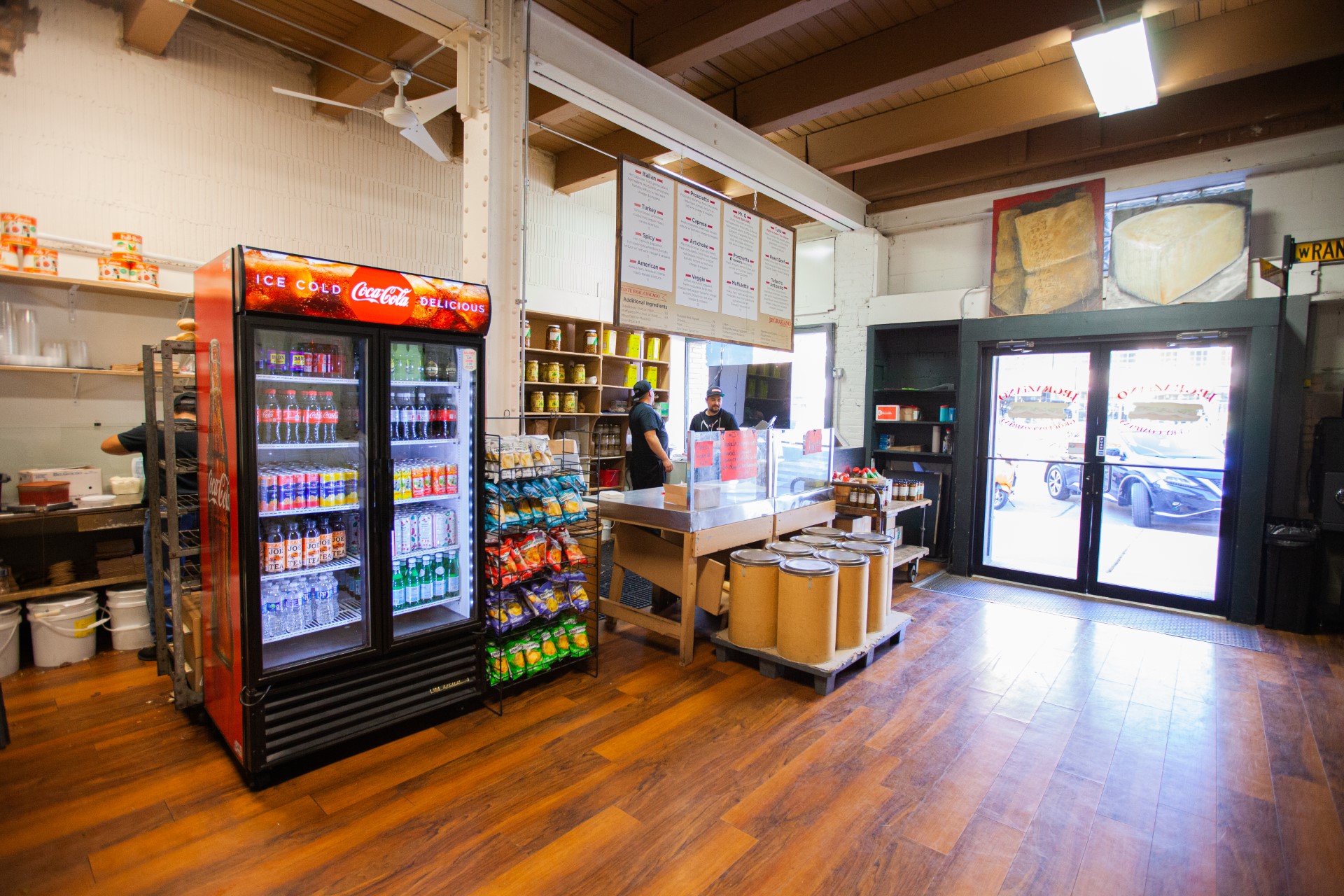 Steven: So you touched on this, that you've expanded beyond being a simple sandwich shop at this point. You're doing collabs with fashion designers and a number of local artists. What can you tell me about this upcoming one with Clubhouse Athletics? How did that come to be?
View this post on Instagram
JG: That came to be though local guys. They swung by one time, and they said, "We made you a soccer Jersey we'd love to drop it off and see what you think." And they did and I thought it was pretty cool. Then they kind of gave me an idea of [that] we could put something together like this for you. We could throw it online for sale and split everything that we make on it and give you recognition and helps us get a bump and stuff like that. I'm always down to work with local Chicago neighborhood people and it really all comes back to relationships. That's a big thing for me, no matter how big or small it is. It's that it's based out of a very organic relationship that you've been able to build. Those guys were cool and when we had just put them out for sale they posted a promotional clip saying 20 weeks ago we dropped off a jersey at JP Graziano and it finally led to this. It shows we kind of took our time on that and went through a bunch of different iterations until we had something that we were both proud to put our names on. When you get brand strength from an organic relationship or a friendship, I think that's the magic touch. We'll do some unexpected things I guess here, things people really wouldn't expect but it's not just about hype and frenzy. Everything is based in an organic Real Deal relationship and then you go from there.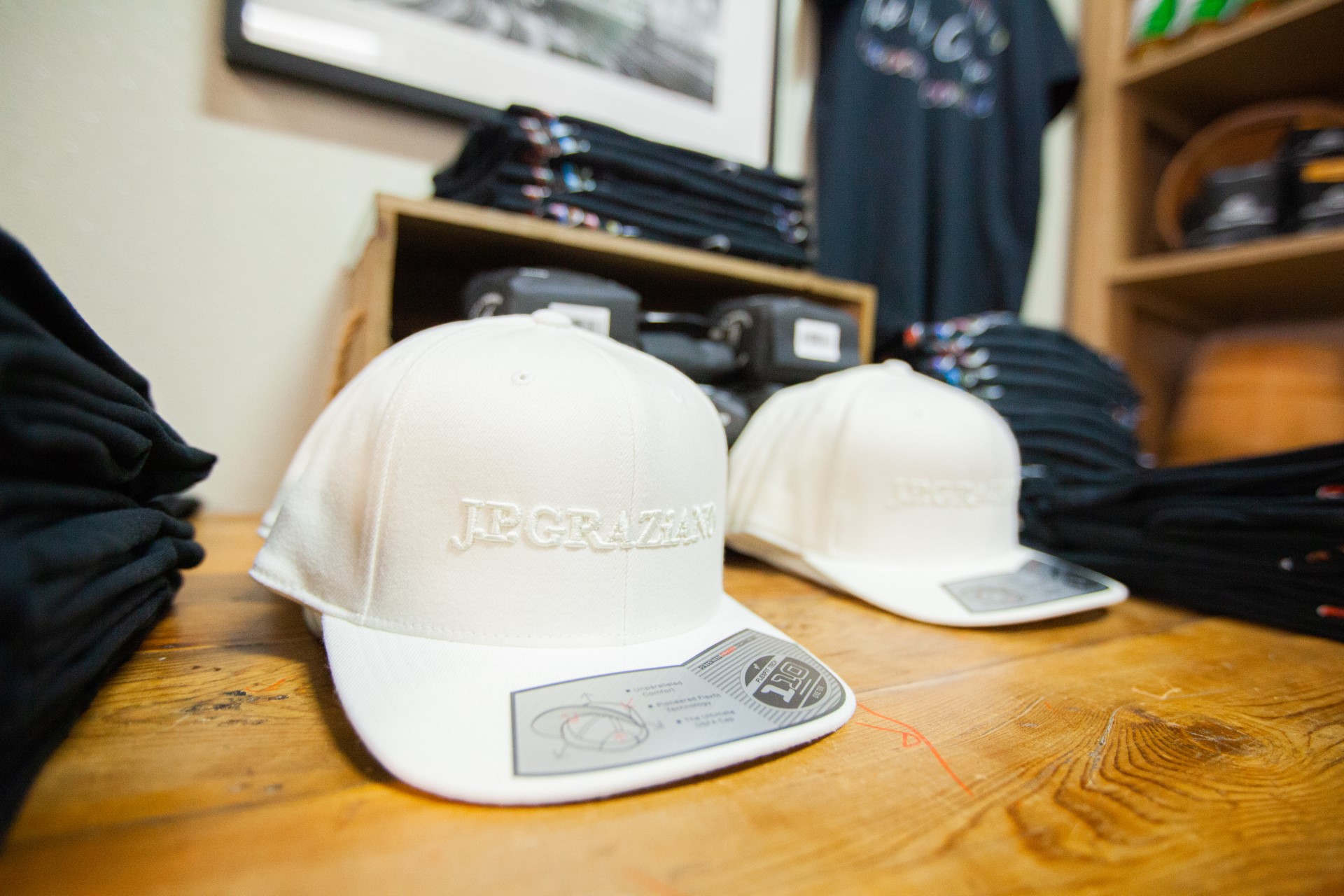 Steven: I know you can't name your favorite collaboration at this point – but is there one that really touches close to the heart a little bit more than the others?
JG: One of my favorite food ones was definitely when we worked with Monteverde. That's my favorite Italian restaurant in the city. And same thing – Sarah Grueneberg who's this superstar chef that was executive chef at Spiaggia, wins top chef and just started coming here for sandwiches when they were doing construction at Monteverde. That's how I got to know her and again, very dear friend of ours. We did their meatballs which, unfortunately my Grandma's not around anymore, hands down the best meatballs I ever had in my life, and we got to make a sandwich and do what we do with their top product. That was really special to me and we broke our asses too. I went over there, and Jamie and Sarah was loading a heater into my car and they had a team of people making the amount of meatballs. And that's the other thing when we do stuff like that, everybody's all hands-on deck, and we're working. So foodwise that was one of my favorites.
The one that just popped up this past weekend was with Gorgon City. I don't know if you saw that.
Steven: Was that the party that was happening? I was wondering what that was!
JG: Kye and Ali just started coming here during COVID, that's when we had the walk up window. They were like any other customer just having basic conversations, no idea who they were, what they did. Then after coming here for a while posted about us on Instagram, and I saw who they were and what they're into and felt that was super cool. Especially because it's not about who they are at first. It's just who they are as people. He's comes to me and says, "My birthday is coming up. I'd love to do something." I'm like, "Do whatever you want." We didn't hype it, we didn't post about it. We had a little flyer we kind of passed around in internal circles, but we wanted people just to be walking down Randolph Street and be blown away that Kye from Gorgon City was doing a live set outside of my store. And 75% of people who were here found it like that. It's so special and you know I'm a head-down, grind-away type of guy but I have learned over the years and especially talking to people that I respect, how important it is to step back every once in a while and kind of really embrace how far you've come from certain levels on your way up. At one point in the night, I went across the street, and I kind of just took all that in. All these people out in front of our store, having the time in their life. Everybody's smiling and dancing and just letting it go. I remember 12 years ago sitting in here wanting to put my head through a wall being "How the hell do you do this?" Then I got to see that it was a result of a lot of hard work. But then also the most important part for me [is that] it was a very organic friendship that had started it was just like texting back and forth. Hey, can we do something at your store? And it was just as real Chicago as you get. I'm conscious of what I've been responsible for here, but the majority of what works here is what has been passed down to me. My great grandpa and grandpa and dad and uncle Larry – all the generations before me – they didn't know they were building a brand. They weren't Instagram guys, but they did build the brand. And I recognize that, and I've always felt I was just born to the guy who was born to the guy and our building happened to be on the corner of Randolph and Peoria. I'm not going to take that for granted, and to show my appreciation for what was handed down to me I try to run this place to best represent Chicago, to best represent our family name. When you do something like that to give back to the city, and you just see everybody, as happy as they've been. Man, I tell you, that's why I do this stuff.
Steven: So this party is going on, you're taking a step back, kind of marveling in what you've been able to build up. How does that compare to your first day? Do you remember your first day?
JG: Full time or when I was nine years old? Unimaginable is probably a word. Nine years old was when you came to work with dad. Saturdays, winter, vacation, summer vacation, all that. I would drop 50-pound bags of beans all the time. I would crash the forklift into stuff. Noted on the big dent on the on the window there where you pay on the shelf that was me backing up into that with a forklift. Never in a million years when I was that age did I ever think I would work here as a career and never in 5 million years did I think it would completely change what it is as business.
Steven: Do you see your kiddos taking over the reins one day?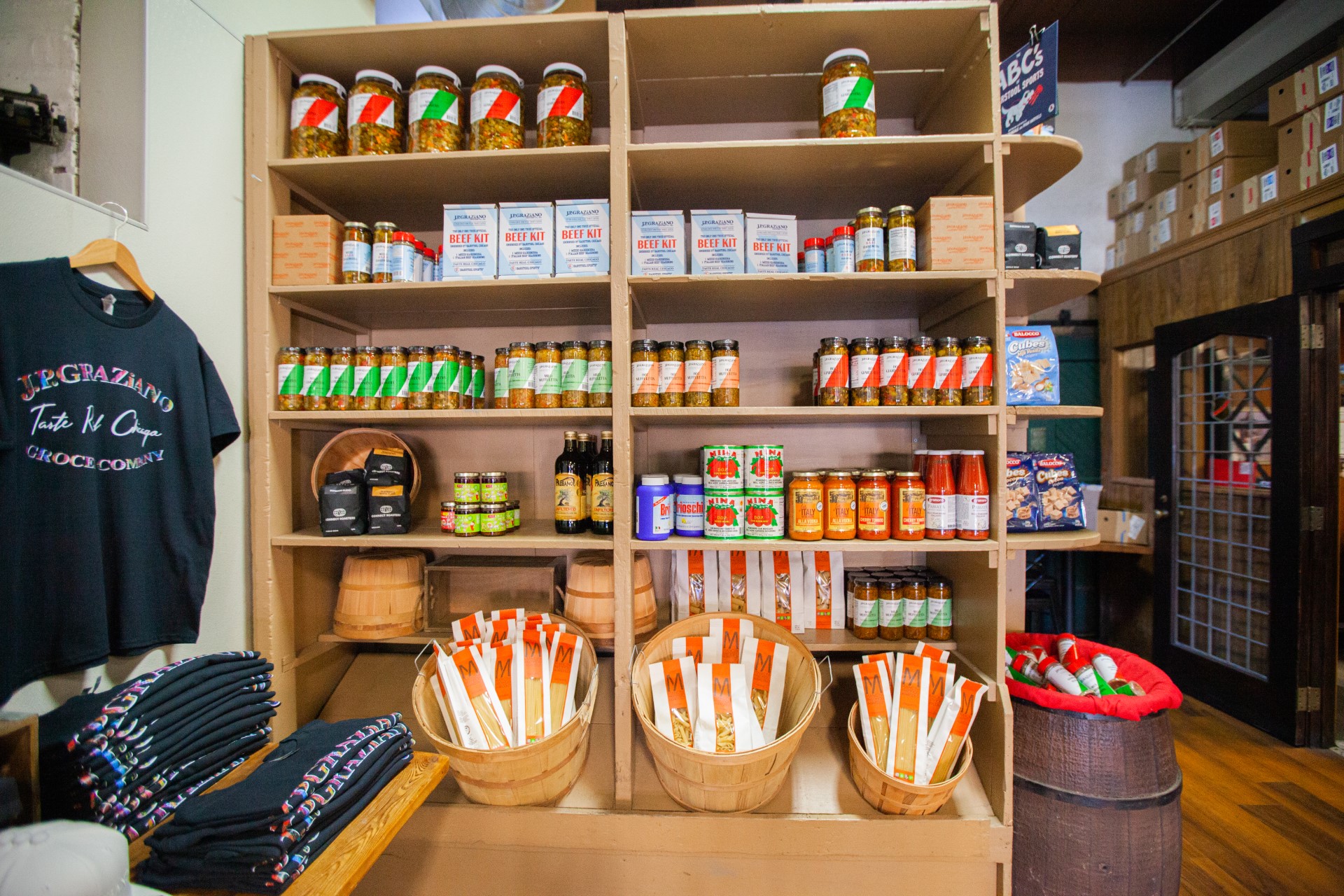 JG: I don't know. They will not be forced into this. My dad didn't force me into it. And that's why I feel I ended up here, because I did get to make it on my own choice. And it was something that was just a feeling that came about inside of me halfway through college when I was ready to pursue something completely different. They won't be forced to do it. I have no idea what this place will be when they're old enough even to do it. But they will know the family story and they will have a work ethic and they will have an appreciation for, as you know, the most important words ever spoken in this place was to me and my sisters when we were very young, "If people don't walk through that door, we don't put shoes on our feet." My kids being ten and six right now have heard that in their life a million times. They roll their eyes at me like I used to roll my eyes and my dad. I touched on it briefly but the distribution part now I did kind of get back into giardiniera peppers and our line of peppers"
Steven: So how did that come to be? You guys are also now selling these amazing Italian Beef Kits right?
JG: The giardiniera has been here since the 50s, updated label, updated sizes, added a couple of products to it. We did do the partnership with Barstool for the beef kits. They start to get my merch on there. It grew out of seeing an opportunity to hit the market with our peppers and do an online fulfillment on our own, shipping to people's houses. COVID really, for as weird as it is to say COVID helped out because you had a captive audience, so many people cooking at home, so many people were going out of their way to support a small business. It lined up for us, and then because I have the lack of inventory space here now with renting out the rest of the building it was preventing growth of that business because I didn't have room.
I started looking for warehouse locations and I was lucky enough to find one out by where I live and at the end of last year moved a giardiniera business into its own LLC. It operates as its own thing off of JP Graziano and I use that warehouse as a platform to teach my kids all of this stuff. We go there on the weekends or if they have a day off of school, we were there on Columbus Day. They're off of school but we're still packing boxes. They gotta work, you wanna eat? You gotta work. They get the story. Your last name is on this bottle of peppers and somebody in Nebraska just ordered this. Because they order it, we're able to have the life we have, and you cannot take that for granted. All those very important life lessons my kids are going to get and what they do with it beyond that is going to be their choice, but the legacy of this name and this family is understanding the life lessons that come with running a business and to me that's my responsibility to pass that on. Then it doesn't matter if they own a sandwich shop or are a veterinarian. They're gonna apply that to their work ethic in their life and hopefully pass that down. And that's how the legacy that I was very blessed to have passed down to me, never dies out.
Steven: What do we have to look forward to from you guys in 2023?
JG: Man, you never know. You never know. For the many different things that we do a lot of is keeping the bread and butter the same. I definitely want to see if we can get that night window back open because that was going really well. It wasn't any issue with the performance, it was just we were never able to hire a dedicated crew just to work at nighttime. Four of my guys were working doubles three days a week and I just saw it wear on them and I can't go to bed at night with a clean conscious knowing that these guys are just killing themselves, even if everybody's getting well compensated for it, you know? I would like to bring that back. There will definitely be some partnerships, some things were lining up, some things that I hope that are on my wish list for the year but definitely trying to get into working with bigger real deal Chicago brands. Stuff like working our giardiniera and our peppers into somebody else's products or that they offer full time on their menu. Really the growth of the giardiniera business is going to be a key focus of mine next year. Then I would like to say I got all these cool concerts and clothing things lined up but those things happen organically and by a text message out of the blue. I'm very open minded when it comes to that stuff. So, I got a good feeling there'll be plenty of those as well.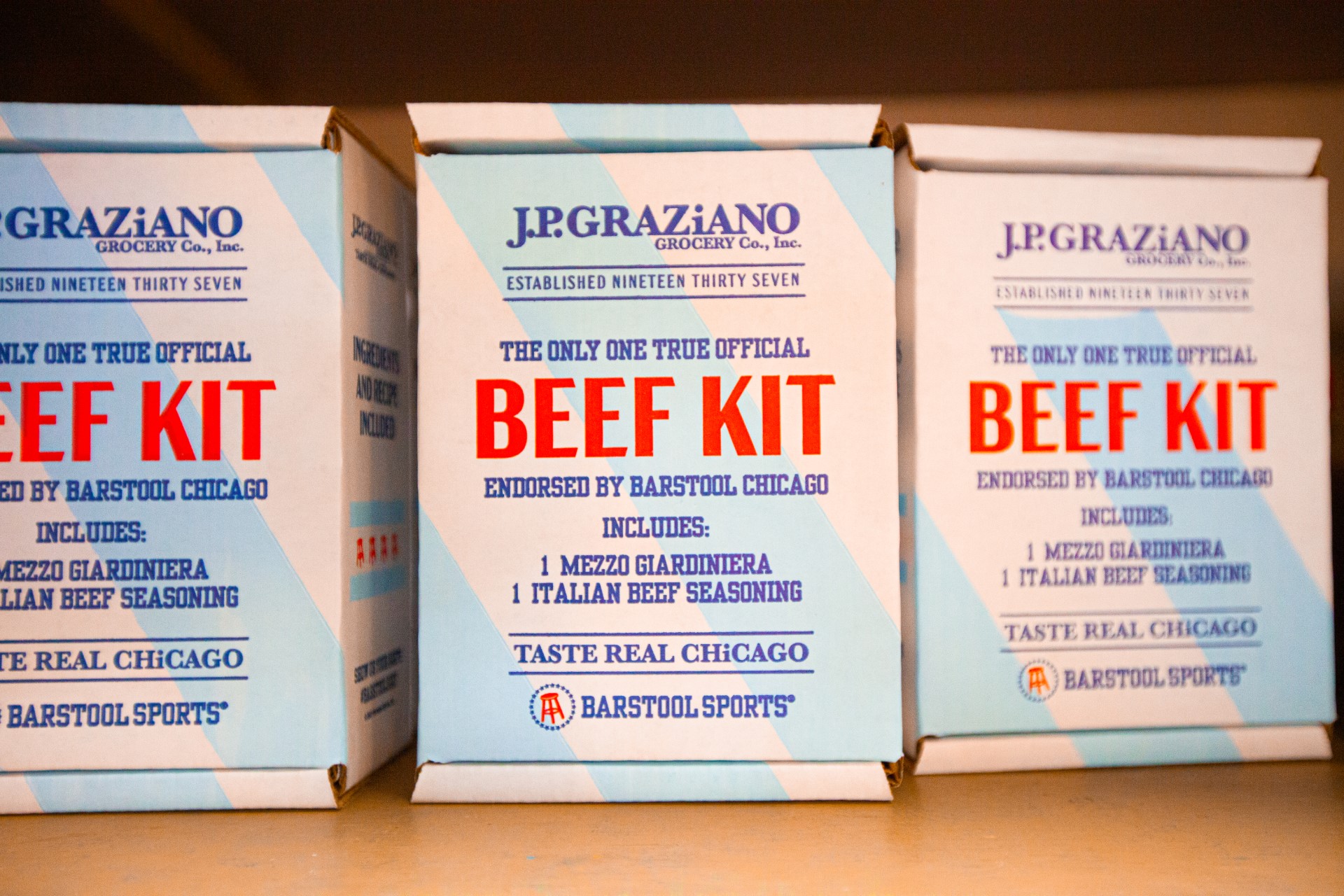 Steven: Authenticity is the foundation of JP Graziano – with that in mind where do YOU take your family for an authentic Italian dinner? You already mentioned Monteverde…
JG: Monteverde as a restaurant is one of my favorites, though, and they would readily admit, it's not like the oldest school Italian restaurant around.  The [restaurants] that represent that to me are Tufano's over by UIC. We do Tufano's antipasto sandwich here. That was, it's a mainstay menu items since day one, but that was the original collaboration sandwich before I even said the word collaboration. We did a sandwich with them. That place is near and dear to my heart because we supplied them when I was a kid, and much before me, and they represent the iconic Chicago that I really respect. La Scarola, of course, Armando, I was delivering cannellini beans to Armando before he even owned the place and our families go way back and those ties run deep. Those two to me are definitely iconic Chicago places, old school dinner style, and then if I could throw a non dinner, one in there, Alpine sandwiches. That's one of my favorites in Elmwood Park. You know a North Avenue old school family-owned sandwich shop, no frills that was a place we went to when I was young. I continue to go there to today. They're open on Sundays, we're not. I've been in there getting sandwiches, and my kids love their sandwiches too because they're sliced fresh to order like we do ours. [A regular] saw me in there one time. They're like, "What are you doing?" I was like, "I'm hungry, what are you doing?" I love this city. I love family-owned spots. I love multi-generational businesses. I don't care if you're a direct competitor of what I do or not. Because those people feed their family with their living. You're never gonna see me say we're better than anybody else or all the way back to your first question, I could rattle off five places that I would think of before mine that I grew up going to Nottoli, Riviera on Harlem, Pasta Fresh, Ginos. Those places did this stuff way before we did, so I got massive respect for that. That's what makes this city this city. What Chicago is, is that we're all in this together. We rode in the same direction, and we have respect for each other. If you're on Grand Avenue, go to the D'Amato's, go to Bari's go to Vinnie's, if you're on Randolph Street, come by me. If you're supporting those places, I'm never gonna feel bad that you didn't walk in here. That's what keeps Chicago real, those relationships.